Hi-Square Plastisol (3DSE)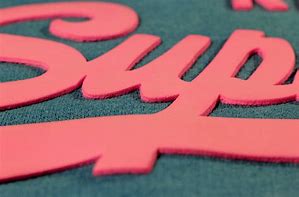 Application
Prints on t-shirts or fleece goods of any colour.
Features
Produces extremely thick sharp-edged, three-dimensional prints.
Additives
The use of additives or reducers is not generally recommended with this ink.
Mesh
Use 60-110t monofilament polyester mesh. For best results the mesh should be tensioned to t least 24 newtons per centimetre.
Stencil
To achieve the desired three-dimensional effect this ink must be printed through stencils that are at least 200-700 microns thick.
Hi-Square Plastisol ink, when printed correctly, will produce a print with an extraordinarily thick ink layer that retains sharp edges and crisp, highly detailed definition, even after curing. Hi-Square colours are based on the standard Mixopake colours so they will produce very close colour matches when used with the Mixopake formulas. This is not a puff ink.
For optimum results his ink must be used in combination with a correctly prepared screen and carefully adjusted printing techniques.
Always test this product for curing, adhesion, crocking, opacity, washability, reflectivity and other requirements in your specific application before using in production.
Hi-Gloss Gel Clear (PLFX) – Produces extremely sharp Three-Dimensional Prints
Hi-Gloss Gel Clear is an improved, specially formulated clear for creating thick and glossy, wet look prints.  It can be applied directly on garments or over under base, flashed colours.  Finished prints made using Union's Hi-Gel Clear have more gloss and better clarity compared to competitive products.  Hi-Gloss Gel Clear is crystal clear and does not shear down during the print run, but will maintain a constant viscosity from start to finish.
Color Range
Note that colours shown on screen can vary to true ink colours.