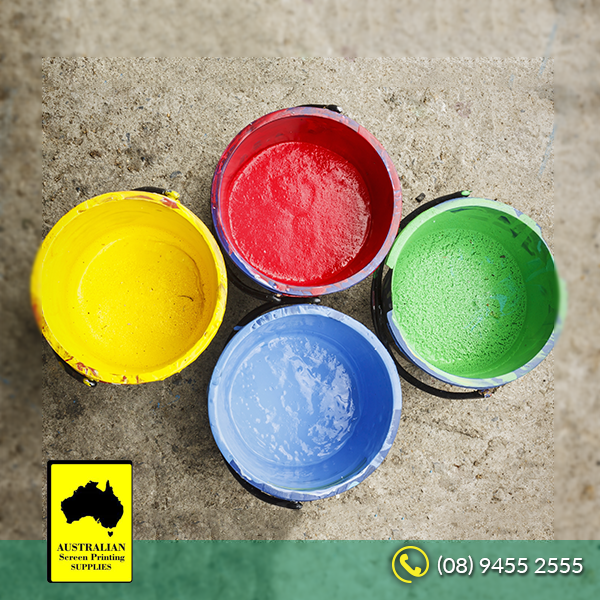 Athletic Gloss Plastisol
(PATE)
provide glossy, opaque prints with outstanding durability. Athletic Gloss Inks are recommended for printing large numbers, letters and designs with thick ink deposits on cotton, as well as nylon mesh garments. Printing onto Lycra and Spandex can also be achieved when you add Unions Unistretch Additive.
Unimach Colour Matching System (MACH) is a state of the art, PANTONE(R) licensed opaque mixing system. Containing 15 components, all formulated to create intense, bright colours with a low build up. Unimach's unique low build up and superior wet on wet printing characteristics make flash curing (underbase excluded) virtually unnecessary and make the perfect choice for both manual and automatic presses.
Mixopaque Colour Matching System (MIXE) is a non-phthalate finished ink mixing system formulated for a perfect balance of colour accuracy and opacity for peak press performance and colour designs. It is an easy-to-use colour mixing system with 12 intermixable colours that enables printers to produce accurate PANTONE (R) simulations. Mixopaque is the most opaque colour system in the Union line. Its opacity helps printers get to colour quicker even when using fine mesh screen size, saving ink and money.
Maxopake (PADE) are the most opaque plastisol colours available. Even the neon colours are bright and highly opaque. Maxopake inks are recommended for direct manual or machine printing on black and dark coloured garments. When printing on white and light-coloured fabrics we recommend adding the appropriate extender base for economy.
Polyester Low-Bleed Plastisol (ATHP) provides glossy, opaque prints with oustanding durability. Athletic Gloss inks are recommended for printing large numbers, letters and designs with think ink deposits on cotton as well as nylon mesh garments. When printing Lycra/Spandex or knit ribbed materials where great elasticity is required, the addition of Unistretch Additive (UNST/UNSE 9160) is recommended. When printing water-resistant materials such as nylon jackets or nylon garment bags adhesion is greatly improved by adding Nylobond Additive (NYBE-9120).
Endurance Low-Bleed Specialty Plastisol (LBMX) are available in a Non-Phthalate, Low Bleed White (LBMX-1070) and a Non-Phthalate Low Bleed Clear ((LBMX-9040). When used as directed, this two stage system will provide the ultimate in bleed resistance, superior stretchability and recovery, while maintaining an ultra smooth and soft hand on today's performance moisture wicking athletic garments. If additional colours are required the Endurance Ink system may be used as an underbase .
Diamond White (PLHT-1070) A premium, high opacity, low-bleed, white plastisol for polyester blended fabrics. Excellent for use as an underbase or highlight white.
Unistretch (UNST) Designs printed with Unistretch White and Unistretch Clear exhibit high elongation and resist cracking when the design is stretch beyond normal proportions. Unistretch is available pre-mixed in white or in a clear (UNST-9160) that can be added to any Union plastisol colour or overprinted on top of flashed colours to achieve these same results.
Autoline Plastisol (AUTO) is a state of art ink designed to produce high quality prints on high speed automatic presses. Its quick release from the screen provides smooth, strong colours even when using light squeegee pressure. The ink penetrates well and does not build up on the back of succeeding screens. Because of Autoline's soft hand and easy printing qualities it's also an excellent choice for printing on manual presses. Autoline inks are designed to be printed wet-on-wet but work equally well over a first down flash-cured white on dark garments. Autoline inks can also be used in the production of both hot-split and cold -peel transfers.
Ultrasoft Plastisols (PLUS-HS) are versatile lead-free, plastisol inks formulated for direct printing and heat transfer manufacturing. They have good coverage on light and medium-coloured garments. When printing on dark fabrics a white underbase is recommended. Ultrasoft's new HS (high speed) formulation helps eliminate press stoppages due to build up on the backs of screens.
Tru-Tone Plastisol (PRPE) Union Ink's Tru-Tone plastisol inks are the premier inks for process colour printing on textiles. Tru-Tone inks have extremely accurate, consistent colours, very low dot gain, and are ready to print right out of the can.
Retro (PLFX) inks are a two-park mixture. When printed in thick deposits the graphic can be easily stretched and cracked after curing. The image will continue to crack during the wash cycle intensifying the distressed look.
Flash-Back (REFL) is an easy to use, one-part, plastisol ink that contains millions of light-reflecting microspheres. In daylight the ink appears to be a normal print, but, in low-light conditions reflects back toward the light source.
Flash-Trans (FLTR) Reflective Transfer System is a user friendly system consisting of 3M Scotchlite Reflective Transfer Film, Flash-Trans Transfer Adhesive and Flash-Trans Coupling Agent. Following mixing instructions for catalyzing the Flash-Trans Adhesive, print a reversed image onto the dull side of the transfer film, gel, and transfer to the garment.
Black Light Clear (PAGL-F620) Special effects ink that emits a blue glow when exposed to black light.
Crystalina (PAGL-J100) A special effects ink that will add sparkle to any design.
Brilliant Metallic (PLFX) Extra Bright Metallic Inks
Glitter Plasisol (PAGL) For sparkling, bright transfer and direct prints.
Shimmer Plastisol (PAGL) A special effects ink that will add sparkle to any design.
Holographic Glitter (HALO) Produces a premium-glitter effect with added sparkle.
Hi-Square Plastisol (3DSE) when printed correctly will produce a print with an extraordinarily thick ink layer that retains sharp edges and crisp, highly detailed definition even after curing.
Suede Plastisol (PLSE) A special effect ink with a unique suede like texture.
Phosphorescent (PLUS) A glow in the dark ink.
Photochromic (PHOT) Inks that change colour when exposed to sunlight or artificial UV light. Are mostly colourless when viewed indoors but when viewed outside or under a source of intense UV light they quickly change from transparent to a colour.
Unilon Powder (ULON) Hot melt adhesive powder in different grades and melting ranges. ULON-2027 & ULON-2159 Fine, ULON-2170 Coarse
Here you can create the content that will be used within the module.
Rutland Mixing Base
Rutland NPT Opaque Mixing Base EH0540 is now formulated as a press-ready non-phthalate plastisol base for mixing colours using C3 NPT Colour Pigment Boosters Concentrates and printing on 100% cotton or over a NPT low bleed underlay when printing on poly/cotton blends.
Rutland NPT Barrier Base ES0266 is being offered as a high opaque, low bleed under base that has been formulated for maximum opacity and excellent bleed resistance on 100% Polyester.  Test of this product has been very successful on various fabrics to include 100% Polyester Jerseys, 100% Polyester Performance fabrics, Rotary Screen printed goods, Sublimated prints, and works to block fabric colour migration when printing a clear top coat over a white.
Rutland Chino Base – RCB5 allows you to produce extremely soft prints on medium and darker fabrics.  Use NPT Chino White as an underlay and mix colours with Opaque Chino Base by adding up to 30% C3 Colour Boosters to 70% Base. Print NPT Opaque Chino mixed colours as a stand alone on dark garments to produce that "worn and washed" look with a very soft hand or print NPT Chino White as an underlay and overprint with the colours to have brighter colours.  Created thousands of subdued shades by adding up to 30% C3 Colour Boosters.  Prints through very high mesh counts for minimum ink usage.
Rutland Bases
Rutland EV0840 is a non-phthalate, PH balanced clear used to extend a plastisol ink and to make it print with a softer hand.  EV0840 may be mixed in at any ratio but it will reduce the opacity and colour strength of the ink.  The mixture can print through a wide variety of mesh ranges and will cure at (160 degrees C) Only mix with NPT plastisol inks to maint the non-phthalate status.
Rutland Ultra Soft Clear Primer ES0000 NPT Soft Primer Clear is designed to simplify stocking of multiple base plastisols.  It functions as a multi-purpose product that gives you the ability to make subdued, soft hand colours on dark garments and extremely bright soft hand colours on lights.  NPT Ultra Soft Primer Clear is no a low bleed plasisol; therefore it is not recommended for use on polyester/cotton dark fabrics.  Mix with M3 colours to reduce opacity and increase colour clarity for light colour garments.  Mix with high tack plastisols to reduce tack and increase flow.  Use as a "lint catcher" , in the first position for an un-interrupted production run when printing on dark 100% cotton.
Color Range
Note that colours shown on screen can vary to true ink colours.