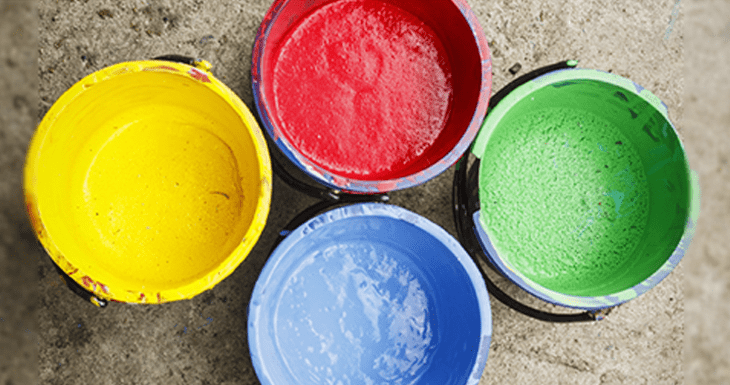 PERMASET AQUA is a revolution in textile screen printing inks.  Based on carefully selected pigments and the latest advances in polymer technology. Permaset delivers pure colour, a superior soft handle and excellent durability in an easy to use water-based ink that is totally environmentally freindly.
This 100% solvent free range is environmentally friendly.  The pigments provide intense, vibrant colour, rich in coverage and deliver exceptional colour yield.  The unique polymer binding the pigment to the fabric delivers exceptionally soft handle and yet shows excellent resistance to damage to rub, wash and dry-cleaning, all without the need for additives.  Being solvent-free it is perfect for printing children's clothes, swimwear, baby clothes, underwear, bedding and homewares.
Permaset Aqua Standard Range
for printing on light coloured fabrics
Permaset Supercover Range
is specifically designed to provide excellent coverage and opacity on dark fabrics.
Permatone Range
is a colour management set designed for colour matching.  You can mix inks together to produce 950 colours, plus the Permatone inks have been granted approval by the Soil Association in the UK.
Permaprint Premium Range
is a waterbased ink formulated for use in poster printing, hand printed wallpaper and art reproduction through to stickers, posters and backlit displays.
Permaset Colours
Note that colours shown on screen can vary greatly to true ink colours.
SC – Available in Super Cover
Mesh: 
For both Standard and Fluorescent colours, monofilament mesh in the range of 43T to 55T metric (110T to 120T U.S. ) is recommended. To achieve the best results with Supercover inks, a coarser monofilament screen around 32T metric (80T U.S. ) is required.
Stencil: All Permaset Aqua  products should be heat-cured for approximately 150 o C/300 o C for
3 minutes. Fabrics that cannot withstand this temperature should be treated at lower temperatures for a longer duration.
Clean Up: All Permaset Aqua products are water based and equipment is easily cleaned with water. Ink should not be allowed to dry in screens as clogging and staining can result.
Permaset Printing Accessories & Additives
 Permaset Retarder

Is designed to slow the drying process of the Permaset product.  This has benefits in that it retards the drying of the Permaset product on the screen therefore no clogging of the screen occurs.  Printing retarder is also beneficial to printing in that it enables an easier release of the screen from the print during the printing process.
Permaset Fabric Softener
Is an additive used when a softer feel is desired in the finished print.  Some fabrics demand a softer print due to their own delicate nature and thus Fabric Softener is the perfect avenue for the 'softer feel'.  Fabric Softener can also be used in conjunction with the use of Permaset Synthetic Fixer and/or Permaset Cold Cure Additive as these additives have a tendency to stiffen the feel of a print.
Permaset Synthetic Fixer
 Is an additive for Permaset Print Pastes or Fabric Printing Colours which markedly improves adhesion to substrates which under normal conditions would have poor adhesive properties.  Synthetic Fixer is most useful in applications over synthetic materials such as poly/cotton blends polyester or acrylic fibres.
Permaset Cold Cure Additive
Has 2 exceptional properties – the ability to cure your prints without the need for heat fixing and unequalled adhesion promotion to most fabrics, even difficult synthetics.
Permaset Table Adhesive
Table Adhesive eliminates any movement of the fabric when printing and is applied easily by brush roller or spray.  Table Adhesive dries quickly to provide a permanently sticky surface suitable for use over almost any surface.
Permaset Binder
Permaset Binder is a speciality product used when bleeding or washout problems occur when too much Permaset Tinter has been added.  Permaset Binder is also used when it is necessary to add over the recommended Tinter dose in order to achieve certain colours in a Fabric Printing Colour or Print Paste.
Permaset Anti-Bleed Additive
Speciality product designed for applications where 'bleeding' or 'hazing' of prints is a problem.  Many fabrics are pre-treated by the fabric manufacturers either part of the manufacturing process or to impart a particular quality to the finished good.  Unfortunately this pre-treatment reacts with the printing media in an unfavourable manner to produce prints which result in bleeding or hazing.
HT Thickener
With the addition of Permaset Tinters water Sulphate of Ammonia solution Synthetic Fixer Cold Cure Additive Permaset Binder or Special Binder A the viscosity of the printing media will be reduced.  A small addition of Permaset Thickener will bring the printing media to its original viscosity