General Information About Plastisol Inks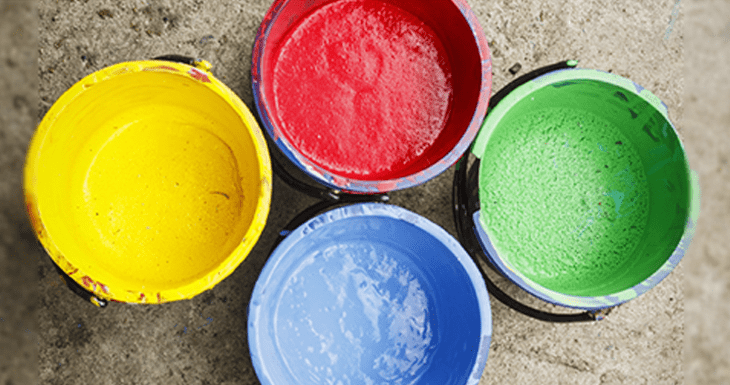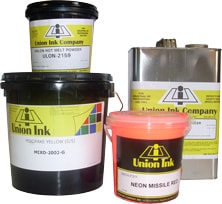 Plastisol inks are widely used in garment printing because they are easy to print, do not dry in the screen, can be opaque on dark garments, and can adhere to most textiles. They are composed primarily of PVC resin (a white powder) and plasticizer (a thick clear liquid). Plastisol must be heated to 300°F – 340°F (143°C – 166°C) to dry (cure).
Plastisol inks can be printed on virtually any surface that can withstand the heat required to cure the ink and is porous enough to permit good ink penetration.. Plastisol inks do not dye the fibres. Instead, the ink wraps around the fibres and makes a mechanical bond with the fabric. For this reason, they will not adhere to glass. They will also not adhere well to wove, water-proofed nylon without adding a bonding agent.
Please use the table below for information and  on our range of Plastisol Inks or contact us for assistance in determining your requirements. Use our Plastisol Ink Selector for info on choosing your ink.
Ink Type

Brief Description

More Info

ATHLETIC GLOSS

(PATE)

Athletic Gloss plastisol inks provide glossy, opaque prints with excellent elasticity. Athletic Gloss inks are recommended for printing large numbers, letter and designs with thick ink deposits on cotton and cotton/poly athletic garments as well as nylon mesh jerseys.

MAXOPAKE PLASTISOL (PADM)

Maxopake Inks are the most opaque plastisol colours available. Even the neon colours are bright and highly opaque. Maxopake inks are recommended for direct manual or machine printing on black and dark coloured garments.

MIXOPAKE PLASTISOL (MIXE)

Union 's Ink's Mixopake Ink will enable you to create any colour in the PANTONE MATCHING SYSTEM and all Union Ink standard colours when printed on black, coloured, or light fabrics.

TRU-TONE PLASTISOL (PRPE)

Union Ink's Tru-Tone (PRPL) plastisol inks are the premier inks for process colour printing on textiles. Tru-Tone inks have extremely accurate, consistent colours, very low dot gain, and are read to print right out of the can.

POLYESTER LOW-BLEED PLASTISOL (ATHP)

Polyester low-bleed plastisols (POLY) are Union's ultimate high-opacity low-bleed plastisols formulated to fight dye migration on the nastiest, bleeding 100% polyester athletic uniforms or other synthetic substrates prone to dye migration.

FLASH-BACK PLASTISOL (REFL)

Flash-Back ink is an easy to use, one-part, plastisol ink that contains millions of light-reflecting microspheres. Under daylight viewing conditions the ink appears grey, and red ink appears red.

AUTOLINE PLASTISOL (AUTO)

Autoline plastisol ink is a state of the art ink designed to produce high quality prints on high speed automatic presses. Its quick release from the screen provides smooth, strong colours even when using light squeegee pressure.

HI-SQUARE PLASTISOL (3DSQ)

Hi-Square ink, when printed correctly, will produce a print with an extraordinarily thick ink layer that retains sharp edges and crisp, highly detailed definition, even after curing.

SUEDE PLASTISOL (PLSE)

Suede Plastisol ink combines an extremely matte finish with a fuzzy texture and raised effect. The resulting print is almost indistinguishable from suede leather in texture and appearance.

PHOSPHORESCENT (PLUS)

Phosphorescent plastisol is a glow-in-the-dark ink which is supplied ready to use or in a component (powder and base form). This ink is formulated for application to cotton and cotton/polyester garments and novelty items.

GLITTER PLASTISOL (PAGL)

Glitter plastisols will provide a glittering textured metallic finish when printed directly on textiles or used in transfers. Glitter inks are extremely flexible.

SHIMMER PLASTISOL (PAGL-M)

Shimmer Metallic inks will heat cure to a glittering, shimmering, metallic finish. They are much brighter than regular metallics, and unlike most metallic inks, will not tarnish with age or washing.
Ink Selector for Plastisol Inks
General Purpose Inks
General purpose inks are used on a wide variety of garment types and colours, for direct prints and transfers, and on manual and automatic presses. Ultrasoft (PLUS) and Autoline (AUTO) are general purpose inks.
High-Opacity Inks
To print on medium and dark-coloured fabrics, you must use high-opacity inks. Mixopake (MIXO) inks and Maxopake (PADM) inks maintain their colours even when printed on black.
Low-Bleed Inks
Dye migration, which occurs when dyes in polyester fibres dissolve into and change the colour of plastisol ink is one of the most severe technical challenges in textile screen printing. Union Ink has added bleed-resistant low-bleed whites and yellows to their Mixopake (MIXE) and Maxopake (PADE) inks. A series of inks called Polyester (ATHP) was formulated in 10 colours to help fight dye migration on 100% polyester athletic uniforms or other fabrics prone to severe dye migration.
Soft-Hand Inks
Tru-Tone (PRPL) produce extremely soft-hand prints (prints where the ink is scarcely detectable to the touch). When printed through a fine mesh, Autoline (AUTO) and Ultrasoft (PLUS) can also provide a very soft-hand print.
Colour Matching Inks
Automatch (AUTO) Mixopake (MIXE) and Unimatch (MACH) are designed for simulating PANTONE® colours on dark, medium and light-coloured garments.
Process Inks
Union Ink has pioneered the development of inks for process-colour printing. Our Tru-Tone (PRPL) is the industry standard for consistent process-colours. Tru-Tone's unique chemistry causes each individual dot to return to its resting viscosity faster than competitive process inks thus minimizing dot gain and improving image sharpness.
Heat Transfers Inks
Union Ink Company has developed five plastisol inks that provide superior performance for printing heat transfers. Mixotrans (MITR) is a colour mixing system for the highest opacity hot-split and cold peel transfers. A standard range of colours for printers not wanting to mix colours is also available in Mixotrans. Also available is Ultrasoft (PLUS) and Autoline (AUTO) for producing purpose transfers, Transpuff (TRPF) for printing puff transfers and Soft-Split Transfer Clear (PLUS-9031) for producing process colour transfers.
Athletic Inks
For printing on nylon athletic uniforms Athletic Gloss (PATE) is an opaque ink with a durable, high-gloss finish that will adhere to the widest variety of fabrics. For 100% polyester athletic uniforms Union manufactures the Polyester Series (ATHP), a set of 10 athletic colours that have shown great resistance to dye migration. For Lycra/Spandex or other extremely stretchy fabrics, Unistretch White or the addition of Unistretch Clear to the Athletic Gloss Series helps prevent cracking in designs that are stretched beyond normal proportions.
Special Effect Inks
Plastisol inks are available in an amazing array of special effect formulations. Puff inks are the most popular special effect ink. Plastipuff (PLPF) provides a high loft and an extremely opaque, durable print. Union ink also manufactures other popular novelty inks such as Glitter (PAGL-J & S), Shimmer (PAGL-M), Suede (PLSE), Flash-Back (REFL), Photochromic (PHOT) and Hi Square (3DSQ). Flash-Trans (FLTR), is a system where printers can produce customized light-reflective designs that are safety rated for use by fire departments and other public safety workers. Union 's newest addition to their special effects inks, Stardust (STAR), is a series of inks formulated to produce thick, dazzling metallic looking prints. The clarity and high gloss of the gel base allows the fine glitter particles to appear as if they are floating inside the thick, clear print providing depth and dimension to the design.
A word of caution about ink additives. It's easy to upset the chemical balance of plastisol inks by adding too much or by using the wrong additives. The result can be a print that never cures properly, a problem that may not be discovered until your customer washes a shirt and the design falls off. To avoid this, use only those additives recommended by Union Ink, read the technical Data Sheets for each ink and additive, and carefully follow their instructions.
Never add mineral spirits to plastisol ink. Although mineral spirits will make it easier to print at first, later the ink will thicken up on standing. Also, it is possible that mineral spirits will prevent the ink from curing properly.