General Information About Plastisol Inks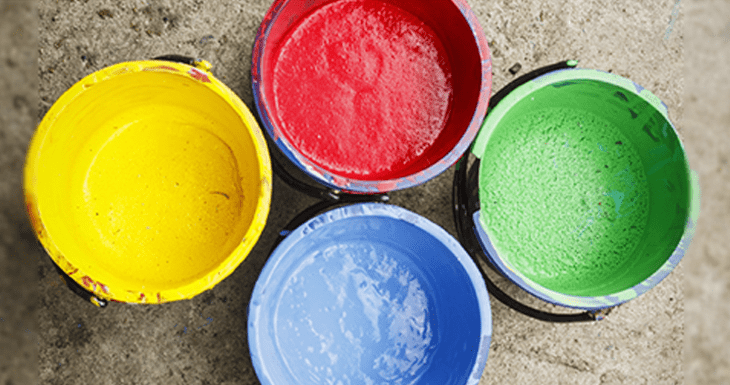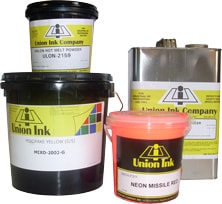 Plastisol inks are widely used in garment printing because they are easy to print, do not dry in the screen, can be opaque on dark garments, and can adhere to most textiles. They are composed primarily of PVC resin (a white powder) and plasticizer (a thick clear liquid). Plastisol must be heated to 300°F – 340°F (143°C – 166°C) to dry (cure).
Plastisol inks can be printed on virtually any surface that can withstand the heat required to cure the ink and is porous enough to permit good ink penetration.. Plastisol inks do not dye the fibres. Instead, the ink wraps around the fibres and makes a mechanical bond with the fabric. For this reason, they will not adhere to glass. They will also not adhere well to wove, water-proofed nylon without adding a bonding agent.
Please use the table below for information and  on our range of Plastisol Inks or contact us for assistance in determining your requirements. Use our Plastisol Ink Selector for info on choosing your ink.
Ink Type

Brief Description

More Info

AVIENT FX SOFT TEXTURE – NATURAL SUEDE BASE

Natural Suede Base creates a suede/velvet finish, while Plush Base is specially formulated to create soft fashion textures that simulate chenille, velvet, flock or suede.  Process Colours will produce full colour process images.

MAXOPAKE PLASTISOL

Maxopake Inks are the most opaque plastisol colours available. Even the neon colours are bright and highly opaque. Maxopake inks are recommended for direct manual or machine printing on black and dark coloured garments.

MIXOPAKE PLASTISOL

Union 's Ink's Mixopake Ink will enable you to create any colour in the PANTONE MATCHING SYSTEM and all Union Ink standard colours when printed on black, coloured, or light fabrics.

INFINITE FX PROCESS PLASTISOL

INFINITE FX Process colours are designed to produce the cleanest, highest intensity colours for textile printing.  These pure, transparent colours are designed for high productivity direct wet-on-wet printing with excellent resistance to build-up, superb printability, extremely soft hand and minimal dot gain.

POLYESTER LOW-BLEED PLASTISOL

Polyester low-bleed plastisols (POLY) are Union's ultimate high-opacity low-bleed plastisols formulated to fight dye migration on the nastiest, bleeding 100% polyester athletic uniforms or other synthetic substrates prone to dye migration.

INFINITE FX IMAGEBRITE LITE GRAY

Avient™ Specialty Inks INFINITE FX IMAGEBRITE are retro-reflective inks with enhanced visibility
for fashion and novelty type designs. ImageBrite Reflectives, when exposed to a focused beam of
light will reflect light back to the light source.

INFINITE FX HIGH DENSITY

Avient™ Specialty Inks INFINITE FX HD SOFT DENSITY is specifically formulated for high density
printing with a soft texture feel. Printed images can have either a smooth or textured surface
depending on mesh counts and printing parameters. HD Soft Density is soft to the touch, durable
and stretchable and prints through a wide range of mesh counts and stencil thicknesses.

INFINITE FX NUPUFF

Add Flexipuff Additive to Plastisol Ink to create custom puff colours, or alternatively use the Nupuff colours or tintable base to acheive your  puff effect.

SUEDE & PLUSH BASE

Natural Suede Base creates a suede/velvet finish, while Plush Base is specially formulated to create soft fashion textures that simulate chenille, velvet, flock or suede.

PHOSPHORESCENT   GLOW-IN-THE DARK

Phosphorescent plastisol is a glow-in-the-dark ink which is supplied ready to use or in a component (powder and base form). This ink is formulated for application to cotton and cotton/polyester garments and novelty items.

GLITTER PLASTISOL

Glitter plastisols will provide a glittering textured metallic finish when printed directly on textiles or used in transfers. Glitter inks are extremely flexible.

SHIMMER PLASTISOL

Shimmer Metallic inks will heat cure to a glittering, shimmering, metallic finish. They are much brighter than regular metallics, and unlike most metallic inks, will not tarnish with age or washing.
Ink Selector for Plastisol Inks
General Purpose Inks

General purpose inks are used on a wide variety of garment types and colours, for direct prints and transfers, and on manual and automatic presses. Ultrasoft (PLUS) and Autoline (AUTO) are general purpose inks.
High-Opacity Inks
To print on medium and dark-coloured fabrics, you must use high-opacity inks. Mixopake (MIXO) inks and Maxopake (PADM) inks maintain their colours even when printed on black.
Low-Bleed Inks
Dye migration, which occurs when dyes in polyester fibres dissolve into and change the colour of plastisol ink is one of the most severe technical challenges in textile screen printing. Union Ink has added bleed-resistant low-bleed whites and yellows to their Mixopake (MIXE) and Maxopake (PADE) inks. A series of inks called Polyester (ATHP) was formulated in 10 colours to help fight dye migration on 100% polyester athletic uniforms or other fabrics prone to severe dye migration.
Soft-Hand Inks
Avient Infinite FX Process Colours produce extremely soft-hand prints (prints where the ink is scarcely detectable to the touch).
Colour Matching Inks
Union Mixopake  and Rutland M3 Plastisol Mixing Systms are designed for simulating PANTONE® colours on dark, medium and light-coloured garments.
Process Inks
Avient Ink has pioneered the development of inks for process-colour printing. Our FX Process Colours are the industry standard for consistent process-colours.  Avient Infinite Process Colours unique chemistry causes each individual dot to return to its resting viscosity faster than competitive process inks thus minimizing dot gain and improving image sharpness.
Low Cure, Low Bleed Inks

With the continued growth of polyester and blended fabrics, screen printers may face challenges when choosing the right ink for each garment type, including overcoming dye migration and achieving a softer hand-feel. The dyes used in most polyester fabrics can migrate into printed ink surfaces when cured at the standard (320℉/160℃) temperatures, resulting in discolored prints.
These inks are formulated to cure at a lower temperature to minimize the opportunity for dye-migration, while also lowering energy consumption, lowering production space temperatures, and preventing shrinkage of heat-sensitive fabrics. This an ideal ink for use on garments that are prone to bleed.
The new and improved Union Ink Gen 2 low cure inks are creamy with improved printability, offering a softer hand and a matte finish with an improved fiber mat-down. They also afford finer control when printing onto unpredictable fabrics.
Union Gen 2 low cure, low bleed inks are designed for cotton/poly blends as well as 100% polyester. This series offers multiple under base options including Grey Blocker for faster flashing, Black Blocker for dye sublimated garments, UPLC1071 Low Cure Poly-White designed for use on 100% polyester with excellent bleed resistance, and UPLC1073 Low Cure/ Low Bleed Polar White designed for use on cotton/poly blends with an excellent mat down. In addition to a full offering of popular athletic team colors, there is a low cure viscosity reducer: K2912 Viscosity Buster LC.
This flexible temperature range/high opacity series allows printers to lower dryer temperatures when the dye instability of the garment demands it, and affords the option to cure at standard temperatures when sharing a belt with garments coming off of other presses.
Special Effect Inks
Plastisol inks are available in an amazing array of special effect formulations. Puff inks are the most popular special effect ink. Nupuff provides a high loft and an extremely opaque, durable print. Avient ink also manufactures other popular novelty inks such as Glitter, Shimmer, Suede, Imagebrite, Cork Base, Brittle Base, Rock Base and Hidensity.
A word of caution about ink additives. It's easy to upset the chemical balance of plastisol inks by adding too much or by using the wrong additives. The result can be a print that never cures properly, a problem that may not be discovered until your customer washes a shirt and the design falls off. To avoid this, use only those additives recommended by Union Ink/Avient Ink, read the technical Data Sheets for each ink and additive, and carefully follow their instructions.
Never add mineral spirits to plastisol ink. Although mineral spirits will make it easier to print at first, later the ink will thicken up on standing. Also, it is possible that mineral spirits will prevent the ink from curing properly.